17 Sep

window talk about brand and product
When designing spaces dedicated to retail, an essential focal point is the window that talk about the world of the brand and its products. It is the first point of contact with the consumer and therefore plays a fundamental role of engagement, moreover the showcase communicates the brand and its values.
"The window display must communicate the identity of the brand, talk about product promo of the moment and create interest in the distracted passerby. So it must know how to capture attention".
From this point of view, the showcase becomes a strategic place to communicate a product and that is why BE READY, a Milanese agency specializing in retail, involved us in the design of the Christmas windows for the DoDo jewelry brand.
Designing shop windows inspired by two different types of Christmas celebrations: the "Christmas Dodo" and the "Mauritius Christmas". Our planning started from these two ideas.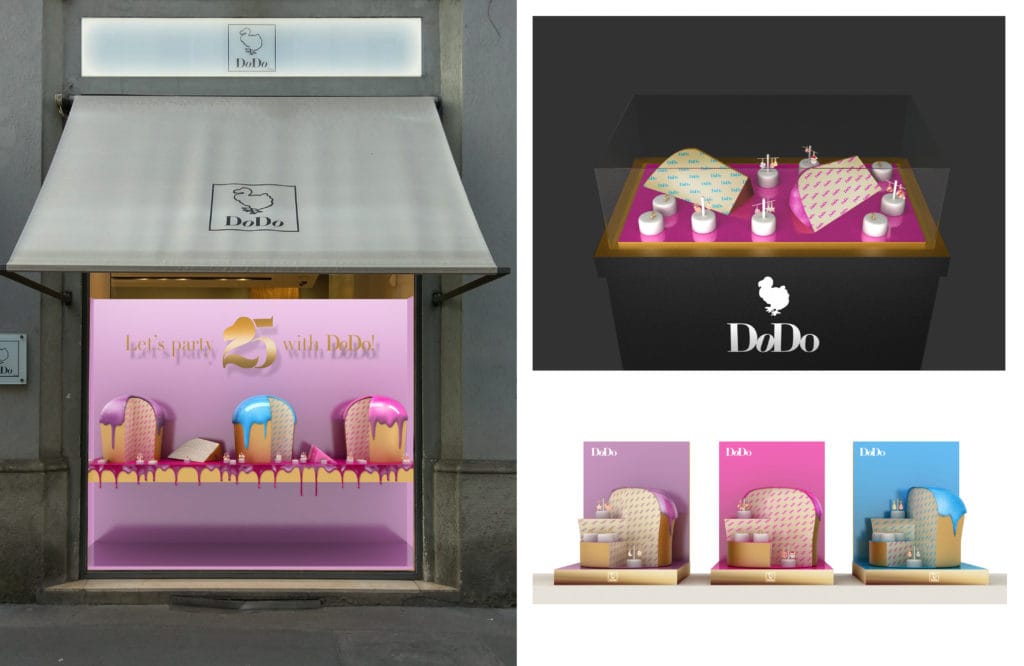 For the Dodo party, we paid tribute to the Milanese origin of the brand that was born in 1994 from a new business idea from Pomellato. The choice falls on the pandoro which becomes an icon of the project but glittery, glamorous and oversized. He is the fulcrum element that acts as a support and backdrop for Dodo jewelry.
For the project dedicated to Christmas in Mauritius, which is the birthplace of the Dodo brand, we imagined an underwater Christmas, where anemones become Christmas trees, the star of Bethlehem is replaced by a starfish and the scene takes place in the coral reef.